Mountain running organized by the Greyhound Club. (Competition called Beauty and Performance.)
The event started a day earlier. On Saturday there was an exhibition of all breeds and the running race followed the next day.
There were a lot of dogs, but as far as greyhounds there were seven of them.
The oldest female is Winter Joy. She was imported from Ireland and at that time she was not in a very good shape. The neglected dog, her owner kept her somewhere in the field in a small place and he was probably just hoping that she would soon leave this world. When I first met her I thought that she is blind and deaf. After I unfastened her from the leash, she walked a few steps and she hit the tree with her head. She also did not react to the sounds. In November she will be eight years old. I hope that she will be with us for many more years. She runs with a great enthusiasm. We know that she is not the star of the first magnitude, but she is kind and unconflict nature and is very empathetic. Perhaps it´s because her life didn´t have an easy start. Her pedigree is great. Her father is an Australian dog Elite State. In the year 2003 he ran 15 races and won 12. His running time 29,86s (for the length 520 meters) recalculated to 480 meters – the most common lenght – is for me incredible time 27,36s. It´s apparently sire of decades and really he has 3 929 offsprings. Her mother – female -Tommys Joy was also a very good runner. She ran 480 meters in a time 28,88s. In our country I don´t know any female which is able to run as quickly. Unfortunately, our little Joy arrived to us when she was about three and half years old. In that time she started to learn walking, listening and even to run. But in Rabapatoma she won twice. In Czech Republic there are not safe tracks, we were able to run also in Nitra and Greppin. On our track Křešín she ran in time 16,60 and she gained 4th place overal. (At the exhibition and the race she reached 16 points.)
My second oldest female is Kirké Argument. She was born in Kennel Argument. She is a daughter of Ato Boldon who comes from my Kennel Grefina. This male won in years 2005 and 2006 ME FCI. He ran 480 meters in 29,18 which is a very nice performance, but in comparison with the dog Elite State it is not much of a miracle. Ato Boldon has had many successes. Out of 29 races he won 12. Kirke´s mother Jodie Argument was not as a star, her only known running time - 32,35 – in Rabapatoma is quite weak. (Winter Joy ran at the same track 31,21s.) I love our Kirké a lot, but she doesn't have a potential to be a champion.
Third oldest female Premarket Chance was born on September 2nd, 2007. She is my fastes female. She ran more than 60 races, mostly in England, but also in Rabapatoma and Nitra. Her father is exelent Elite State (like as Winter Joy's), her mother is a female from England – Maxilla Murkin. She ran 25 races, one from the best times is 29,35s (480m). This time was ran on the track in Coverty. Our "Jennynka" ran on Křešin in time 15,50. She is still able to run very quickly, although she will be seven years old. At the exibition and race she got 22 points and she is a Champion for Beauty and Performance. For the third consecutive year.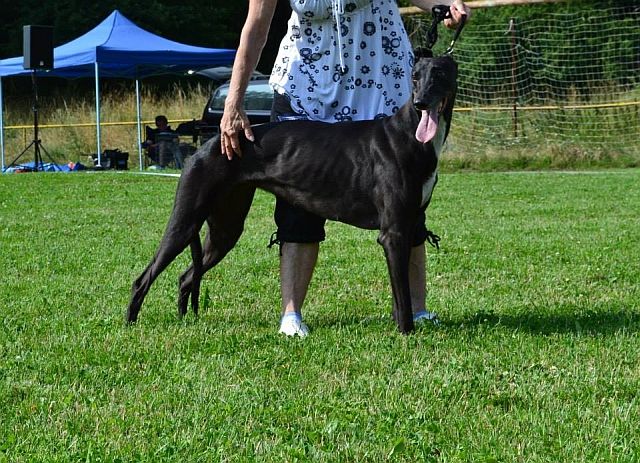 The second and the third place went to sisters Bente Skari Grefina and Beckie Scott Grefina. They are the youngest, but not by too much. They were born on November 7th, 2007. It is a very nice date, isn´t it? Bente Skari called "Ladybird" had a better start this time and so she came in faster time (15,62s) than her sister Beckie (15,88s). Beckie won an exhibition and also received (in sum) 22 points. In this case, the position in the race decides. Ladybird took third place with 19 points. And how is it with their pedigree? Their father – male Elbony Dancer was imported from UK. Their grandfather is Staplers Jo – the dog of the year 1995. Their grandmother – female Elbony Spirit was running very well double tracks, for example in Limerick she won 640 meters in 39,64 seconds. (Recalculated for 480 meters it is 29,76s). Mother of the two sisters is female Aglaia Grefina. Their Grandmother female Sean´s Roller was born in Ireland – she had five puppies – Ato Boldon Grefina who won two European Championships, Artur Grefina who was second in the Europian championships and the others are Abigail Grefina, Aglaia Grefina and Allen Johnson Grefina. Their Grandfather – male was Texasflower Alvin. In the year 1999 he ran an amazing time 28,30 on the track 480m in Gelsenkirchen.
Premarket Chance had 7 puppies, one of them is Carl Lewis. He stayed with my others dogs in Křešín. His brother Calvin Smith lives in Benešov, this place is not so far from Křešín. Calvin ran in time 15,59s, Carl ran (as the only one) under 15 seconds – it was 14,88. He became the Club Champion for junior dogs in 2014. (Their sister Caroline Kluft ran already in Beringen 480m in 28,56s!!!)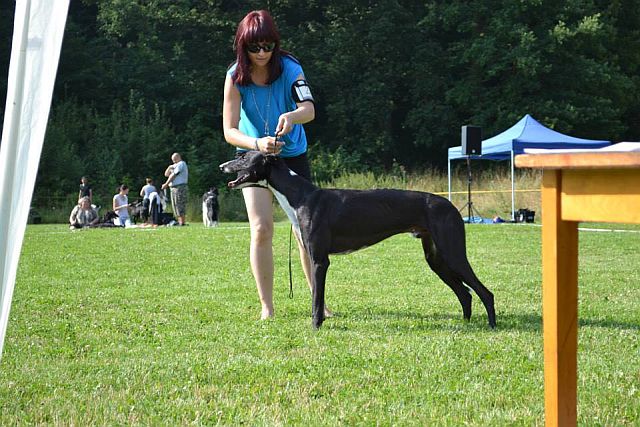 ---
Sarcoma
In last 6 months I did not published any article on my web pages. In the middle of last year my greyhound Abigail started to hobble with right forefoot. My first idea was it is a pulled or torned muscle. So she was idle but the improvement did not happen. In the vet clinic I got the diagnosis within few minutes. Sarcoma. The vet recommended amputation of the leg including shoulder-bone and estimated salvation for 6 months. It was terrible news for me.
I asked healer who determined the diagnosis correctly every time. He said that he is not sure about sarcoma rather a cyst. I searched more and found out that in Tabor (South Bohemia) there is another healer who owns diagnostic and partly medical device Oberon. It is invention used for astronauts. There should be a Ukrainian in Prague who sells this device. Until today I did not find how much does it cost and where to buy it. I agreed with the owner and went to Tabor. She took big phones and placed it on dog´s chest. Later on she switched on a display and went through all organs. She said all organs were harmonized. She said the dog has borreliosis which causes the cysts. So first I have to cure borreliosis. I have to say that the dog left her agile. It was clearly seen how well she feels.
After another search I bought device Zapper and started the treatment according to manual. I cleaned kidney, lymph system and cured borreliosis. It costs lot of energy and money and in the beginning it looks like her status is better. But it was only short time improvement.
During her treatment her brother Allen Johnson started to hobble and later her sister Aglaia too. I tested out even wonderful MMS, later paste from Indian spices and every time it helped only for short period.
All three greyhounds died within 14 days in December 2011 in the age of 8.
The vet told me it is an ancestral load and the case was over for her. And me with my daughters buried Abigail on December 11th and Aglaia and Johny on December 25th. Simple "excellent" Christmas. I had one week of so I read book "The Cure and Prevention of All Cancers" from "Hulda Regehr Clark, Ph.D., N.D.". The book is really extensive. It has about 600 pages and read all without having week of would be almost impossible. I tried to make an abstract and I recommend to read it more times by the interested persons. I sent it as well to some well known vets, but they probably did not read it at all or they thought it is lie or half-truth and it makes no sense to consider it. I do not know.
Practical implication for dog owners is that it is necessary to choose dog food carefully and it is necessary to deal with parasites. Everybody bear up that either first or second issue are not that easy.
Concerning food I checked carefully web pages www.baron.cz and checked as well lot of information about detoxication of dogs. There could be found plenty of products in internet. I was very much interested e.g. in the information that wolves are able to find spices in the nature which can clean their bodies and they should not have parasites. I came to conclusion when I stopped using dry food ORYJEN I could solve one problem. I cook for the dogs and check everything what I add into the dog food. I am not sure that I do everything perfectly but for sure my remaining dogs revived and look better then before.
Concerning parasites I read multi-pate description from ing. Hana Blahova who has parasites as all life topic. I went through her conclusion and wondered a lot. Parasites do not live only in intestine but in whole body and it is not so easy to get rid of it as the vets usually recommend. It is more complicated process and it is necessary realize that not only dogs but people are sustained as well. Many problems with parasites are not treated. The doctor some to conclusion that no bacteria or viruses were found meaning the person is hypochondriac and should be treated at psychiatry. Medicaments against parasites disappeared from pharmacies. Even so common kid´s threadworms are not treated at all. During discussion with my friends I could hear refusal answers. People do not have any parasites and all is nonsense only.
So I remembered a book which I read during my study. In 1846 worked Ignaz Philipp Semmelweis in Vienna General Hospital's First Obstetrical Clinic where doctors' wards had very high mortality of midwives' wards. He forced medical students as well as other colleagues to wash hands in chlorinated lime. In 1865 he died in nuthouse as the society did not accepted his requirements. In 1879 Louis Pasteur watched the invader of childbed fever in microscope and requested the same procedure in hospitals again.
Sometimes in our live we should learn from the past and we should not consider new information as nonsense. As next one I can mention the publication from MUDr. Olgy Ivanova Jesiliyeva "Wormes-parasites - reason of not specified diagnoses". This woman is leading medical centre for detoxication in Moscow. She confirms as well that many serious diseases including carcinological ones have its reason in parasites. Her interesting book you can read at www.zapper.cz.
I do not wish to anybody to experience the same horror and helplessness which I made connected to cancer of my dogs. I would like to fight for them, I would like to help them at all costs but I did too many mistakes and I did not have enough information. I was not able to evaluate all information coming from all directions. Sure I do not know if I were able to manage similar situation now. But I am sure I have to fight against parasites by all means and all the time. And I have to feed the dogs different way then before.
I am using Supper Ravo Zapper which I bought almost every day. To treat myself as well as my dogs. (For dogs adjust to only 20% of performance for people!) I am teacher in the school and during last week almost everybody in the school turned sick probably flu. I returned home with high fever and only one day later after the treatment with Zapper I do not have any headache, no cold, no sick note no chemicals into the body. And this is the problem nowadays. Pharmaceutical industry is not interested in support of any treatment by means of a device which will reduce their profit.
To interested persons I recommend the book The Cure and Prevention of All Cancers, Hulda Regehr Clark, Ph.D., N.D.
---
Greyhound racing in Macau
In touristic maps is the greyhound race track mentioned, even with small advertisement. For the admirers and fans of greyhound racing it is obligatory to come there. Anyway compare to the other sightseeing places like casinos, betting, horse racing it is only "low level" entertainment. The location in the north part of Macau corresponds to this fact as there are only few other tourist spots e.g. Museum Lin Ze Xu or Fortress Mong Ha. Even these cannot be compared with the luxury casinos. In entrance is from the road Av. General Castelo Branco only few minutes far from bus stops. Who arrives by ferry should take bus nr. 3, who arrives by plane should take bus nr. 26. This is enough for short introduction and let go into Macao (Yat Yuen) Canidrome Co. Ltd. as written above the entrance gate.
We were told we have to buy a ticket to enter the stadium. So our first steps are unsafe and we are looking for sales office. The guard standing in the gate just shows we should enter. No ticket needed we can safe some money. The reason could be that the racing starts at 7:30pm and we arrived about 10pm. Or rather the race track is independent of the spectators (similar to casinos:-)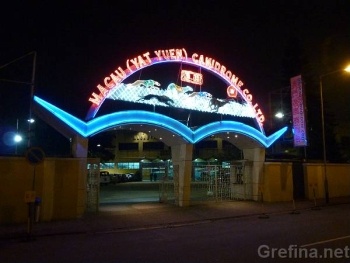 Almost automatically our first steps lead to betting office where is lot of empty or not winning tickets on the floor. About 20 betters, sitting or standing, follow the races on monitors or check the racing newspapers (available in chinese only) and try to find the best bets for coming races. There are totally 18 races at 350 yards (320m), 510 yards (466 m) and 550 yards (503 m), each with 6 dogs. The races follow in rather agile pace in regular intervals because everybody knows exactly what to do. Anyway everything is going a bit dumpish as nothing's going on. And really nothing's going on. It is only many times prooved procedure. For employee as well as for better and for only few spectators. I have almost the feeling we are the only spectators because we are making pictures, the other watch the dogs before the race or jam in hands tickets or newspapers.
The greyhounds are coming from kennel to a round sand area mainly to defecate before the race. Later they cross small elevated platform where the tattooing numbers are checked. Everything is going quite smoothly, without emotions, barking or any need to calm down the dogs. Presentation of the dogs follows during walk in front on the main stage - which is by the way almost empty - including 3 stops that the betters can update their bets. The last from 3 stops is in front of VIP room.
From the last stop the greyhound continue to the start boxes. There are totally 3 start boxes. First fixed boxes for 350 yards are at the beginning of the opposite straight, moveable boxes for 510 and 550 yards are on the straight in front of the main stage. Its operator do quite well job because after the start they have to lift up the start boxes by means of manual hydraulic jack and move it from the race track. Well done... Before the greyhounds move in to the start boxes everything is again surprisingly quiet again. The dogs look like almost not interested in the race and are waiting ennuied until they are pushed or partly carried into the box.
After the sign from the boxes that everything is ready a bell rings (it was rather a sound of punch into a rail) warning announcing start of the race and the "rabbit" moves. It is running in a rail on the inner side of the race track. All takes again unbelievable long time and still the dogs do not show any sign of impatience. Their stoic behaviour changes suddenly as soon as the boxes are open.
During the races we could not see any collision or any attack among the dogs. After the race the track is closed with plastic curtains and the dogs are caught in the curve after the finish line. A walk heading back into the kennel passing the main stage follows again with stop in front of the VIP room. No emotions again. You can see how tired are the dogs, breathing heavily, but the race is over and there is no need to show other engagement. Even no emotions when the dogs from last race pass by the dogs waiting for next race, separated just by simple handrail. The only emotions you can see on the faces of the betters who failed with their bets. The tickets fly to the ground and the better leave the stadium. It is around midnight and the last race is over. Step by steps the lights go down to the necessary minimum, neon above the main gate. The entertainment for today is over here. The casinos where the money flows continuously and in huge amount are waiting. And who cannot afford betting in casinos can at least take free shuttle bus and can try to get in casinos some food and drink. As recommended in chinese internet. Author: stve
---
Tonicek
One weekend in November 2009 we got new arrival. A small dog, size of a whippet, with lovely look, simply small dog to feather bed. He still had milk-teeths so we thought he in not yet one year old. My daughter Pavla ride a bike with her boy-freind and found him in a hole at dump. He was quite jumpy and it took long time until they attracted him. It was clear he was not lost, he was left there by purpose.
First few days everything looked well. He had some troubles with food, was hungry, but vomit quite often. I stopped to feed him with dried dog food (Acana for puppies) and cooked rice with meet for him. It seemed to be OK, stomach was quiet and I changed back to dried dog food. And everything repeated again. He did not digest which confused us and we did not know what happened to him. So I changed to cooked food again. In the beginning he went for walk with pleasure but everytime when he returned back he did not lay down but continued to walk. At first we thought he is not tired enough and he need to walk more but later it was strange to me. Puppy and does not play, just walk and walk. In the evening I cleaned the kitchen and let him walk as he want. When he went out it was worse and worse so I let him go just in the garden for a while otherwise he was at home. He seemed to be more and more tired and I believed it is caused by lack of sleeping. I started to ask my friends if they know why a dog does want to lay down. My friend told me he has a backache or stomackache. I gave him Regalen (to help with recovery of digestion) and Vironal (to help againt infection). It looks like the situation was stabilized. I went with him for longer walk but after the return he salivated and walked all the night. After a talk with healer I realized the dog has really a problem with digestion. My daughter went to the clinic in Beroun and the vet gave him antibiotics and Rimadil.
Both by injection and the dog relaxed and slept all night. Next day the same was repeated and we got the antibiotics - this time pils - and returned home. Situation got worse. I bought lapacho and prepared a tea, gave him herbal and cooked rice with meat. The dog started to sleep and become quiet. But remained tired and exhausted. It was clear to me I have to do something. I called vet specialized in digestion. She decided the dog has to get infusion and must not eat anything. She said the dog has to stay in the clinic so I though its necessary. Second day in the morning I got a call the dog howled and wailed all night and I have to pick up him. Impossible, I had to go to office. I called there again and again and got information maybe on Saturday I can bring him back home. Later I was told the dog is dying and reportedly he died on Saturday.
I was shocked. Not only emotionally but financially as well. Why it ended up like this? When paying (more than 6000Kč equals to 230Euro) I wondered how many medicaments were used for 8kg heavy dog. In fact no diagnosis only what I knew already. I got feelings of guilt that I entrusted them this dog. I started to search in the books and find out following:
Acute pancreatitis - clinical signs are most commonly related to:
Pain in the abdomen. Remark JH: can be checked by palpation.
Walking with arched back.
Resentment at being touched or lifted.
Looking for cool places to lie down.
Apprehension and restlessness.
Increased saliva production results in wet muzzle and front feet and repeated vomiting may occur.
Diagnosis of pancreatitis is made by evaluating serum enzymes in the complete blood test and treatment by a veterinarian is required to support the dog, reduce pain, and avert complications of the disease. Treatment using oral supplementation with pancreatic enzymes (Pancrex, Pancreatin, Viokase, Panteric) is most effective but must be given daily with every meal.
Remark JH: Only a complete blood check can confirm the diagnosis. (Value of amylasis are upto 7x higher, lipasis 2-3x higher. Special trypsin test can be done as well.)
Acute pancreatitis occurs when normal glandular defense mechanisms to protect the cells are overwhelmed by activated pancreatic enzymes. Chronic use of some drugs including acetaminophen, furosemide, sulfonamides, tetracycline,and the combination of Phenobarbital and potassium bromide have been suspected of precipitating an acute pancreatitis in some dogs.
Source: Care of the Racing and Retired Greyhound
As a possible reason of dog pancreatitis is in the last time mentioned inadequate or wrong food due to low quality dry food produced from waste without contain of high quality animal proteins. In Africa is this disease known on hard working people without access to high quality proteins.
Based on these information I could understand possible connections. The dog was probably feed with low quality dry food and got acute pancreatitis. Due to pain he started ta walk at home which was not comfortable for the owner. Maybe he was locked and started to wail. Such troublesome dog was not welcome and landed at the dump. Maybe they went to vet but after my experience I rather doubt that a proper check and diagnosis were done.
I remember as well a story of young ice hockey player - now handicapped - who was living with father only. At home they did not cook but bought bread and sausages only. The boy went to school and had training twice a day. Perhaps he ate in the canteen but the other food were mainly bread and sausages only with low contain of proteins. The trining load was quite high but the trainer did not care what the boy eats. He had stomachache more and more often and finaly a terrible pain came. The boy was able to reach a phone and call emergency car. He fainted and woke up later in hospital. Even after an operation he remained handicapped.
In the internet I could find some information if the dog gets food with low protein content only it is necessary to start with high quality proteins very carefully otherwise pancreas cannot process it. I do not agree on that as the pancreas is damaged by wrong food the treatment should start on time.
I do not understand one thing. I am not vet but I was able to find necessary information. How is it with responsibility of vets? Do they need to study continuously? Or is it their goodwill only? They are here only to earn money without having any moral aspects in their job? Why no vet did proper diagnosis according to the clinical symptoms - dog does not lay down, salivates, vomit, loose weight.
---
Racing autumn 2009
The latest arrival of our breeding station, BENTE SCARE Grefina and BECKIE SCOTT Grefina, were November 11th 2009 exactly 2 years old. At this age the running carrier should be started. What´s more I have as well promising bitch from Ireland WINTER JOY. November 1st 2009 she was 3 years. It took longer time until she got used to our environment and until she could start with racing. Another bitch KIRKÉ ARGUMENT was 2 years old in February 2009. When she started with first hopeful races she had one year ago an accident - she smashed in garden with full speed into ladder and I was afraid whether she will ever walk again. It ends up well but her performance is high probably influenced by this accident so it looks like she will not be seen on the racetracks anymore. She runs on our racetrack in Kresin just for fun but bigger load is not suitable for her.
End of June 2009 we finalized racing licenses and thought where to go for racing. All three bitches are very fast so I rejected running on grass tracks in Czech. In surroundings there are racetracks in Nitra (Slovakia), Greppin (Germany) and Rábapatoma (Hungary).
I went to Greppin for training and was excited by the racetrack. It is prepared very well, without any fault and the organizer very kind. Unfortunately the races very in October. So I decided to go to Nitra. Racing order is same as in the past in Praskacka which fits us. July 29th 2009 we took part in Slovakian Championship. My dogs run the distance of 490m.
Results: 1. BENTE SCARE Grefina 32,349s (winner of Slovakian Championship); 2. WINTER JOY Grefina 32,754s; 3. BECKIE SCOTT Grefina 33,036s; 6. KIRKÉ ARGUMENT. It was quite rainy that day so the racetrack was very soft and the achieved time not that fast.
October 3rd Slovakian Derby took place and we participated again. Results: 1. BENTE SCARE Grefina 31,734s (Winner of Slovakian Derby); 3. WINTER JOY 33,032s; 4. BECKIE SCOTT Grefina 33,160s. Second placed dog MOONLIGHT HUNTER RIPPLY (owner P. Meszáros). It was a ding-dong race until the last meters. WINTER JOY (on webpage of Slovenský dostihový greyhound zväz is she called ZIMA BOY or ZIMA JOY??) started from box nr. 6 and was far behind in first curve. Anyway she made up for lost meters and finished 3rd. She is tough fighter and I believe she will catch on next year. BECKIE SCOTT is during training as fast as her sister BENTE SCARE but she is more shy and she need to sow one's wild oats. I could realize it during the last race in Greppin.
Even the racetrack in Greppin is excellent and I looked forward there were issues which I did not think about. First the race was mid of October so we went almost all way there and back in darkness. On the way there heavy fog and not good knowledge of the way caused it was quite hard to drive. Anyway we arrived on time. My dogs were shocked. So many people and even more dogs were there. They did not want to get off the car even they ran already there. I realized later my "villager-dogs" were stressed a lot. In the beginning I did not pay attention but during the racing BECKIE "presented" herself. After the start of the race I ran up a embankment which is around the race track to see the race. BENTE ran together against bitch ELEKTRIKA and finished neck and neck in very fast time. First BENTE was announced as winner later ELEKTRIKA. Anyway I was happy. But BECKIE somehow mixed up everything and instead to run into the finish she came directly to me. I should not stay there but who would think about it before. There is no fence around the race track at that place and BECKIE solved it by herself. WINTER JOY did not have all papers ready that time so she could participate during FCI racing in training only. I would like she runs same distance as BECKIE and BENTE but the organizer did not mind and she could run distance for whippets. Unfortunately time was not measured which disappointed me.
KIRKÉ ran as well short distance and finished 3rd from 3. We did not participated in fact on final. The racing was according to FCI order which does not fit to my dogs. I can say the racetrack is well prepared but the amount of participants took us by surprise. Almost 5 hours long journey back in darkness was quite inconvenient. Anyway we have to realize the race track is quite close for Czech scale. I expect to go there in spring again.
Important is we did not have any injury and went through the season smoothly. It is pity that BECKIE and BENTE run all the time in same together and a hierarchy in kennel was created similar to ABIGAIL Grefina and her brother ALLEN JOHNSON Grefina years ago. If they run together it happens that kennel´s leading dog does not allow to be overtaken. Once when ABIGAIL would like to overtake ALLEN JOHNSON he lashed out at her - according to the kennel´s order she was not allowed to do so. Later on ABIGAIL ran in another heats and she could find courage and began to win. The same I can see at BENTE and BECKIE. BECKIE needs to run more times with other dogs to overcome the subordination. So I see we have to go to Rábapatoma where the dogs can be set in different heats.
---
Scooter
I have dogs which like moving and my chances to let them run as they wish and need are limited. In the past I ran with them quite often but with the age my performance drops. It is impossible to compare my speed with their possibilities. I tried as well to ride bicycle with them which is one of good choices what the load concerns anyway such trips equal often to heroism. How to get of the bike fast, how to avoid colision with the lead, how to avoid injury when roe or rabbit crosse our way.
Finally the scooter came. We had at home very old one from Jilemnice. Originally it was produced for summer training of skiers. It has both wheels 20" with off-road tires and high handle bars. Initial brakes lost with time the efficiency and my wrists were painful during downhill because of shaking on uneven terrain. Luckily skilful mechanist got suspended front fork and clear off this problem. Later on I let to replace the brakes with more efficiency ones. Front wheel has new rim with mechanical rim brake. Rear wheel has new axle with hydraulic disc brake which works very well during raining or snowing. These changes result from sometimes rugged experience.
Prior this fierce brake replacement it happened to me that a cat flashed past when I ride with more dogs down a snowy meadow. Both rim brakes were useless and I continued approx. 50m on my belly. Luckily the snow reduced the friction and nothing happened to me. Anyway I was shocked what could happen!<!p>
First I started to search for new scooter and later on let to refurbish the old one. I checked different offers in internet but there were not so many suitable "machines". Thanks to the owner of one company, Mr. Michalek, I had one scooter (with drum brakes) to have a try. Scooter which is produced for rental. The result did not encourage me. It was hard to apply the brakes, handle bars were not suspended and placed very low for me. Small wheels felt into all small holes in terrain. After only one trip I had terrible back-ache. Kind producer understood my troubles and took the scooter back.
He delivered another scooter which is produced for mushers. The handle bars were a bit higher, brakes were mechanically actuated disc brakes. I tried it again in terrain. It was scooter for men - heavy so my wrist and back was still painful.
Surprisingly the producer did not kill me but delivered another scooter which I finally bought. Front wheel is 26", rear wheel is 16", handle bars are perfectly suspended, disc brakes are hydraulically actuated. As small disadvantage I would see steep handle bars too much above the front wheel. The old scooter has handle bars not only enough high but as well inclined closer to rider. The result is that you do not hit the frame with your knee and the riding is more comfortable. On my new scooter I moved the handle bars closer to me by means of turning the handle bars support.
Currently I have two scooters. The old one which is rebuilt and the new one bought in February. When comparing these two scooters I see as optimal the combination of both. Such scooter I could not see in the market until now.
20" rear wheel has advantage when braking. It does not block or slid even during sudden brake. Smaller 16" rear wheel is less reliable. 26" front wheel has advantage during higher speed and generally better handling. Hydraulic brakes are very reliable anyway sudden braking with front brake is a bit dangerous. I think mechanical rim brake on front wheel and hydraulic disc brake are the best combination. Handle bars for walking the dog must be really high in order to enable upright position. Low handle bars is not recommended because you have to watch the dogs and the surroundings continuously.
And how is it with the lead? After previous experience I bought some leads from mushers and now produce new leads by myself. It is a strap with approx. 50cm of rubber strip and snap hook. Such lead can sustain sudden pull and its advantages cannot be compared with flexible lead. I use as well approx. 10cm wide waist belt where the leads are connected to. I tried to connect the lead directly to the handle bars but it negatively influences the stability.
During walk the dog has chest strap as well as collar. In forest the lead is connected to collar because the probability to meet a roe or a rabbit is higher. Chest strap would be in such case too flexible and the dog can swerve into bush or side ditch and definitely I do not want to follow him there.
I would like to throw in that there are currently on the market only few scooters which correspond to such application. The producers think about suitable scooters for sporty men while the amount of people walking with dogs is increasing. Some of the producers could think about it and offer scooters for dog walking and longer trips with dogs.
Recent story of an accident during walk the dog is not very funny. A lady set out with scooter equipped with small wheels and poor working brakes. It ends up with a crash and injury. When having one dog only. I have usually 4 or more dogs and if everything is "as it must be" I ride safely. Jana Havlová
---
Greyhound breeding in Czech Republic
I would like to look at the greyhound breeding from slightly different angle than usually. From the past we know that in first half of 20th century the Englander tried first attempts to start with racing greyhounds in Czech Republic. They did not succeeded that much anyway the imported dogs stayed here. The following breeding was probably not very focused to let distinguish some of the dog´s characteristics. So before the Velvet revolution we had in Czech Republic greyhounds which could somehow race on our grass racetracks. Their speed was not were high and the dogs could survive even on low quality tracks. In the same time the dogs could get good places at shows Beauty and performance because they fit to the given standard. It is in fact dog which can do everything but not on highest level. He should have biggest chances in show Beauty and performance.
After 1989 when the borders were open the situation changed. Some breeders imported greyhounds specialized in shows with big deep chest often reaching bellow the elbow joint of the forelimb as well as much higher dogs. The dogs immediately occupied top places and other breeders lost their ranking and slowly draw off. We cannot see such greyhounds on the racetrack. Their body does not fit for high speed on the racetrack, their physiological parameters were not preferred during breeding.
Based on the preferences of some owners - who does not want to stay all day on shows - greyhound specialized in racing appeared more and more. With the increased speed on grass racetracks the amount of injured dogs increased as well. The reasons were mainly too small radius in curves, too hard surface and until know valid racing order enabling more runs during one day with short break only.
The hope came together with Mr. Pesek and the first and only one sand racetrack was built in Czech Republic. Slowly the owners of racing dogs find the way to this racetrack. Czech Greyhound Racing Club (CDGK) together with Continental Greyhound Racing Confederation (CGRC) let confirm new racing order and everything looked really well. Unfortunately - due to impact of some private persons - the racetrack was changed into "track for desirable" and closed for all other. Such situation killed greyhound racing in Czech. Even though we still have in Czech Republic excellent racing greyhounds able to achieve good results on high quality tracks in abroad. Currently CDGK organizes its races on straight uphill grass tracks so the dogs can practice without the danger of senseless injuries and go to abroad for racing on sand racetracks.
Some of the owners have greyhounds which can compete in coursing which is a bit different movement for the dog. The referee observes and scores how intelligent is the dog to follow the bait, run the curve and in the end to snatch the bait meaning show the ability for hunting.
From above mentioned you can see we have in fact 4 types of greyhounds in Czech. The differences are in body characteristics as well as in abilities given by the physiological functions. My goal is not to dispraise any type of greyhound. My goal is to draw owner's attention to it. It is important they know what dog they have at home and how to treat him.
Some owners have the wish to change the setup of their breed and they try to do breeding in such way. But in such case they cannot expect any wonder. The choice of dames and sires in Czech is small and so the resulting breed is still more or less following the previous generations meaning will have similar ability. If there are off-springs with higher speed characteristics they have just higher chance to be injured on grass racetracks. It is impossible to compare Czech breeds with the Irish breeds. In Ireland there are born about 20 000 off-springs every year. For breeding are chosen only top class dames, completely healthy with excellent character. The same choice is valid for sires as well. The choice is really great and it cannot be compared to possibilities of Czech breeders.
I have to write few words about narrow-minded pride of some breeders who believe their breed is "the best in the world". I have to point out that choice of greyhounds to be excellent in racing leads to choice of extraordinary physical features enabling extreme velocity but in the same time these dogs have big differences in physiological functions compare to normal dog´s population. Example: extremely high - more than 90% - of fast muscles fibers can lead to fast hyperacidity and rabdomiolyses, hormones value of thyroid gland is definitely different than by other dogs etc.
The activity to rescue retired or other way handicapped racing dogs in Ireland reached to Czech Republic and our owners get neutered racing greyhounds exactly with such special characteristics unlike other dogs. It is important that owners and vets pay attention to this. One important information more which is well known to top athletes. Who practiced a lot from young age and raced successfully reached top results as well thanks to genes. Due to long sport activities they have changes in physiological functions as well as in psyche. You know sport is a drug. Athlete who suddenly stops its career does not feel well, has medical troubles and soon or later returns to sport at least for fun. Sport activity usually continues to the senior age. Without this possibility physical as well psychical troubles occur.
The same happens with greyhound who practiced hard who 100% loved racing. Suddenly all is interrupted, the dog moves to new country, new environment and the new undoubtedly loving owner places him into bed and takes him carefully on the lead only. It looks to be excellent treatment but not that good for greyhound´s healthy. Another owners let the greyhound run without lead but sometimes the dog does not return by himself which creates next problem.
It is necessary to find a compromise. For example a walk with greyhound can be more interesting when using a scooter, the lead is more safe when containing flexible part made of rubber and your hands are free when having the lead of dog connected to your belt. The dog and owner move enough fast, the bodies exercise well and spent enough energy. Both are good mood and the range of your walk is increased. The owner does some kind of sport activity but he does not run out. Of course it is even better to find safe place where the dog can run without the lead. Just so for fun and he can practice or improve his condition. His bright eyes will speak clear language.
At the end I would like to make short summary: the main goal is to pay attention to the development of greyhound breeding in Czech Republic. Every owner has to realize which dog he has at home and adjust his free time activity accordingly. You cannot expect excellent performance from greyhound specialized in shows on a racetrack. You can participate with the greyhound for Beauty and performance on more activities but you have to accept the result accordingly. Real racing greyhound need real training and later the dog can participate in races on high quality sand racetrack. Jana Havlová
---
Greyhound is hunting dog
In the last time I can hear for me quite a lot unbelievable news. For example an announcement that a totally quiet greyhound - no hunting, no lead necessary - to be sold.
Our first greyhound Jurasek was - after the death of his owner - a decoration to antique furniture in one shop in Prague. His new owner did not have enough time for him. She took care more about lost cats and prepared a sales exhibitions. She showed Jurasek to us during a walk to Petrin (district in Prague) and I have to say Jurasek was a real DOG. He went through the city without the lead, very self-confident, avoid all traffic danger and reach the park without any doubt. A beautiful chain on neck. He fascinated with his behavior, overview and serenity. A dog without any problem.
My older daughter was keen for him and run with him and with other two whippets daily. Usually without the lead, no problems with other dogs. At home Jurasek required quiet place to sleep and rather not to disturb him.
Once I went with school to the mountains and my children stayed at home with father and grandmother only. So I do not know what happened I heard it only. But it was not funny.
During one cold day Petra run with Jurasek and two whippets for long run through Prague. She met a man looking like a hunter, with gun, wondering that the dogs are without leads. She was afraid he could shoot the dogs so she decided for small path on a border of a forest. On the other side there was a snowy field only. During winter days as usually roes grazing there. Jurasek did not wait any single second and started the hunt and one whippet followed him. Petra stayed there for a while and then she decided to return home with the other whippet.
Petra, my soon and younger daughter went on bicycles back to search for the dogs. But it took longer time because of the distance. When they arrived Jurasek and the whippet waited there already - shiver with cold, with bloody mouths but without any injury. Meaning the hunt was high probably successful. The whippet was even more days sick after this hunt. And Jurasek? As nothing happened. From his point of view he enjoyed it. I think he was that time five years old.
Conclusion for me was that dogs do not lose natural instincts. It is only matter of time when a good opportunity occurs and when his brain starts. Greyhound will high probably return to the point where he disappeared or he will return home in case he run away close to his home. But nobody can say what could happen during such escape - danger in the nature, unlucky injury or traffic in the city. J.H.
---
Greyhound and flexible lead - enquiry
Question in Guests book about using flexible lead for greyhounds is quite interesting. so we decided to launch an enquiry.
Greyhound a flexible lead - experience
Everybody has to realize that greyhound is a very powerful dog and an excellent sprinter. When I bought my first greyhound I had only few experience with obedience and so I decided to go to training-ground. Among other things the defense was practiced. We stand in a circle and the trainer with training sleeve and stick tried to provoke the dogs to start an attack. Some dogs were scared and almost did not attack, another dogs did quite hard. All the dogs observed the trainer only my greyhound HUCKLEBERY FIN lay on ground without any interest. He looked like he did not understand what is going on so the trainer approached him without any respect and attacked him hard. And then it happened. Half a shake only. You hardly could imagine this. My dog started without any sign from ground an counter-attack to the trainers neck. Thank heavens I had quite short lead and I was able to pull down my dog. Of course I landed on the ground. Finally nothing happened but it was the very first time I realized I have no chance to hold an starting greyhound.
During the races nobody wonder that dogs speed up from zero to ca. 60km per hour immediately. Now you can imagine what will happen with the flexi lead. It stretches, allows first steps for dog and then you have to hold the dog even with higher speed. This could end up with injured fingers or with your fall and with the dog running far away. In case the flexi lead is locked there is missing any damping element to slow down the dog and to help you to solve the situation.
That lime we learned from more experienced breeders and found out suitable solution. Lead itself is from rigid material or from climbing rope and at the end there is a strong rubber e.g. used to fix load on cars (its quality is essential). Either I hold the lead in hand or the lead is connected to wide belt. Even the dog can start the rubber will brake him and pull him back. An adult can manage easily such situation not only with one dog but even with more dogs. Such equipment is used for canicross and you can buy it usually during the racing day. It is also possible to do it at home without high expenses.
When I mentioned canicross all my family did it. We won in the past Czech Championship in Hradec Kralove. It is not necessary to think about where your dog could run. The dog more happy when you run with him. If you are older you can use a scooter. Of course with good brakes. You can stop the scooter easily and if you need you can get down fast. A bicycle on the other hand is not very suitable because an encounter with deer could end up with an bad accident. Jana Havlova
---
Safer running track - A report produced for The N.G.R.C Promoters Association by Gordon Bisset, Landbroke Stadia Ltd.
We mentioned topic of race tracks and safety race tracks on this pages already mroe times. There are many opinions and ideas what is the best for greyhounds, what is still possible, what is not enough, etc. To everybody who is interested in this topic we can recommend this report. Here you can find basic information about biomechanics of greyhounds, forces acting on the greyhound in the straight, on the bends, how to prepare track for safe running, how to maintain the track. You can also find pictures and sketches for better illustration.
---
Training possibilities
We offer you after previous agreement possibility to practise on natural grass track with lenght of 200m slightly going up. This type of practising is excelent as well as considerate kind of training offen used also by couches in the world. Practising on such tracks can also dogs who cannot race on classical race tracks due to some injuries. If you are interested in it don't hesitate to contact us.
---
Opinion of czech experts to greyhound racing - czech only
Opinion of Doc. MUDr. Jan Heller CSc. from Charles University in Prague (FTVS UK)
Chapter Greyhound racing (page 205, 206, 207, 208, 209, 210 ) from book Fyziologie tělesné zátěže II., speciální část - part 3, edition 1996.
Opinion from doc. Jan Melichna from Charles university in Prague (FTVS UK).
Letter from Jana Havlova sent to University in Brno and answer from prof. MVDr. Jaroslav Hanak DrSc.
---
Training and racing of greyhounds - czech only
Information about training and racing of greyhounds. After extreme performance could the greyhounds get so called rabdomyolyse. What is going on and which possibilities exist while reducing the efects and medical treatment of rabdomyolyse.
---
Racetracks in Czech Republic - czech only
Basic information about racetracks in Czech Republic - czech only.
The race track in Mladé Boleslavi was completely rebuilt (status 2005). At this time has the race track following parameters: length 345 m - small breeds, 480 m - big breeds, rail, double U, radius 42 m, surface - grass.
---