!!! Puppies !!!
Puppies after 10 weeks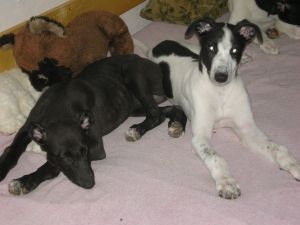 Mather of the puppies AGLAIA Grefina is from A litter (5 puppies) of our breeding station. SEANS ROLLER (AGLAIA's mather) imported from Ireland started with her career on racetracks very late. But even when four years old she won lot of races and awards on exhibitions. TEXASFLOWER'S ALWIN (AGLAIA's father) run mainly on sand racetracks in Germany with very good results and he had to stop only because of injury. Their offsprings were and still are very successful. Best results achieved ATO BOLDON Grefina, FCI double European champion, CGRC European vice-champion. ARTUR Grefina, European vice-champion, is still very fast even with five years. ABIGAIL Grefina achieved good results in CGRC races but her career was stoped by injury. AGLAIA Grefina is very fast and vital too. Her previous owner was not able to ensure good conditions for her so my daughter Petra decided to take AGLAIA back. Since that time the conditions improved dramaticaly. Only due to the time pressure AGLAIA did not participate in races. After ABIGAIL's injury AGLAIA is the only possibility to continue this excellent pedigree. Sire ELBONY DANCER is imported from England. He is 2-nd offspring after SOME PICTURE. This dog was announced in England as dog of decade and his offspring are highly rated.
Our three puppies have for sure the best presumtions to be successful on race tracks. Our breeding station has perfect conditions for puppies. Puppies need three basic conditions for future excellent performance - pedigree, well-ballanced food and enough possibility to move. We can guarantee all of them.
8 weeks old
If the puppies do not sleep or if they are not just in mother care they start with all possible high jinks...
Puppies short time after their birth...
---